VMK NAIROBI AND KAJIADO 2020 CONFERENCES CANCELLED
The second Vision Ministries Kenya regional Conferences that were scheduled between May 21st to May 31st this year have officially been cancelled in light of current Corona Pandemic.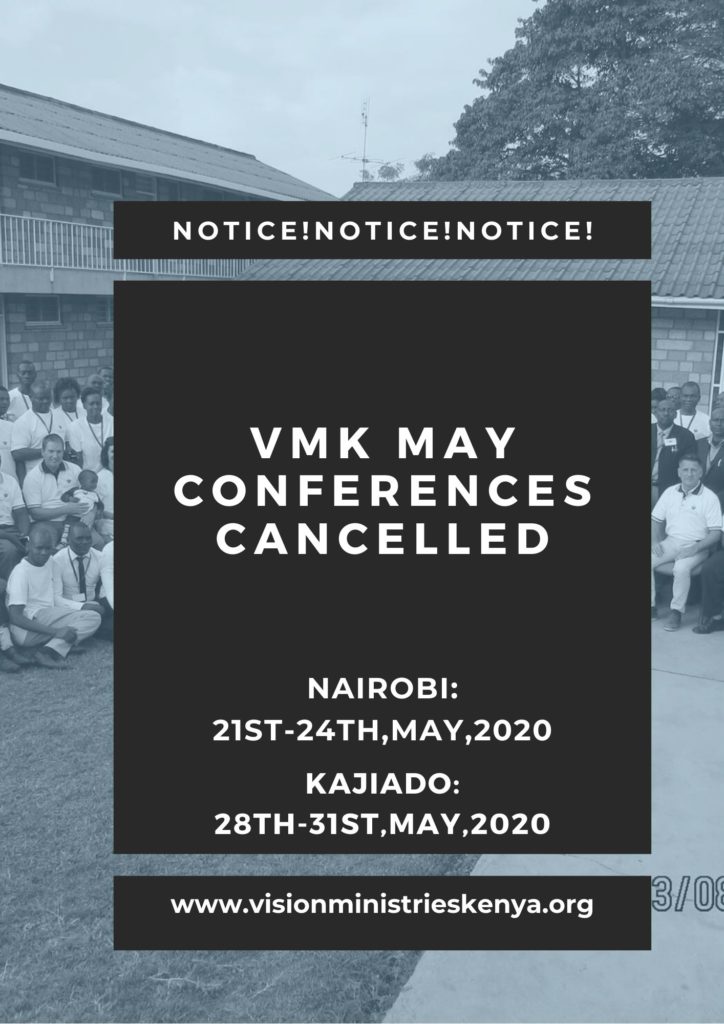 VISION MINISTRY KENYA, CORONA AGE WORSHIP REPORT
Introductions
The magnitude of this pandemic, as well as its fast geographical spread, has not only paralysed both believers and non-believers in Kenya, but also caused global panic, creating gripping fear for our lives. On March 11, 2019, the World Health Organization (WHO) declared the COVID-19 a pandemic. The virus, which experts says is most certainly passed from animals, in this case the bat, has already infected two hundred and eight (208) people in Kenya by the time of writing this article, if the government reports are anything to go by.
After seemingly dilly-dallying for some time, President Uhuru Kenyatta, finally, on March 15, 2020, ordered schools and institutions of higher learning to close. He also banned political rallies and religious gatherings.
Every time we are faced with a crisis as a country, the government, in collusion with religious leaders, call for prayers to consult from God the creator. Saturday, March 21, 2020 was slated as a national day of prayer by President Uhuru Kenyatta, who asked Kenyans to pray for forgiveness and protection from the disease. A good number of Kenyans prayed from their homes as they joined the state prayer via their televisions, YouTube and Facebooks.
Church Services
As coronavirus spreads, our partner churches are taking precautions and adjusting their worship traditions. The pastors and church elders have been using the following methods whenever possible to reach to their congregation;
Facebook Live streaming – This is common with most of Nairobi partner churches however still there are challenges being experienced. In some cases the internet is slow and in some the quality of camera being used makes the images on Facebook blurred. Most of our pastors have been using their phones to do the live stream coverage.
Hope Bible Chapel, Grace Bible Chapel, Outreach Community Church, God's Everlasting Hope, Kayole Chapel and Grace Brethren have so far been active in utilizing this social media platform. Every Sunday they have been trying to cover their services live on Facebook. Most of these services are done at home and in any case they are done in the church premises, there should not be more than three elders/persons as directed by the government of Kenya.
Phone Call Church – This sounds strange but it has been a common method in rural churches. Most of our pastors in rural areas don't own android phones and if they do, the internet limitations may not allow their desire to stream live through the Facebook. Facebook might not as well be an effective platform for them considering most of their target congregation might not be Facebook users.
WhatsApp Church – Most churches have created WhatsApp groups to help reach their congregations. This has been so effective in Nairobi and Kajiado regions. It has well been a great avenue to reach the Teens and Youths within most of our partner churches.
Home to Home when need be – Some of our pastors in Western part of Kenya are willing to go pray with their church members in their homes though this is a method we have discouraged since it might violate social distancing regulations as encouraged by World health organizations and as well as embraced by the Kenyan government.
Chain Prayer Sessions – Most of our partner churches have embarked on chain prayers. A prayer schedule is drafted then shared with congregation through WhatsApp, phone call or Facebook for an individual to allocate his/her time to pray. Once your turn of prayer reaches, you quietly pray on your own at your home. Several church calendars for such prayers run weekly.
Conclusion
As we go through this period of covid-19 pandemic, the Kenyan church misses sermons and worship sessions full of energy but we thank God that most of us are adapting. Preaching to an empty hall with just a camera person is strange to most of our pastors. We continue to pray and hope for the best.
New Church Plant
Soul Winning Gospel Church plants a new church branch in Namanga in January 2020.The pastor that will be taking care of this new church plant has attended several VMK training sessions and by the help of Soul winning Gospel Church, he has attained a certificate in Biblical Studies in one of the the Kenyan bible colleges.